In the sidebar of this journal I will be adding several pictures from time to time. I have chosen things that I think are cool. I'm calling them "My Cool Things." I've decided to tell you about them in a few entries.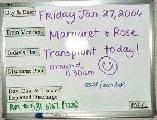 Today is a Red Letter Day on my calendar. This is the second anniversary of the bone marrow transplant that put one, and kept another, of my cancers in remission. In the last two years I have been through many complications, numerous procedures, countless infections, and endless tests; I almost died a number of times. But without that transplant I would almost certainly be dead. Being alive against the odds is definitely cool.

Australian hats have a unique style that brings to mind the Outback, exotic animals, and adventure. My wife wanted to buy me a wide-brimmed hat to keep the sun off my face and neck since bone marrow transplant recipients are at high risk for skin cancer. I picked an Aussie hat that was distinctive and good looking. We chose a hat over sunscreen because shade is more effective than chemicals, and a fine hat can improve your appearance. A little help from Australia is welcome, because avoiding a third cancer can only be cool.
God has been my friend since before I was born, even during those years when I spent my time in rebellious pursuits. He was with me during my treatment for cancer, especially during my many, sometimes life-threatening, complications to my bone marrow transplant. God kept me alive through those difficult times because He has a plan for my life. Doctors, medications, and transplants are several ways God heals us of our illnesses. Supernatural miracles may be the exception rather than the rule; He
can
heal us that way, but He often chooses to help us help each other. This does not diminish God's role in the treatments that lead to our cures. I am deeplygrateful to God and my doctors for my recovery. Having a friend like God is eternally cool.